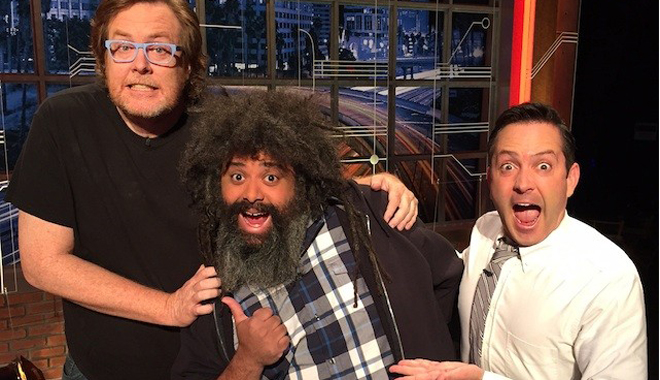 by Will Cleveland
On March 25th of this year at 11:59 and 59 seconds, veteran Austin-based comedian and podcaster Chris Cubas (Doug Benson's Movie Interruption) made his debut on @midnight. I say debut because he killed it so hard, they asked him back on the show later in June.
Cubas won the first ever @midnight #PointsMe challenge, a contest to find the Twitter's funniest unknown comedians, garnering him a spot on Comedy Central's late night internet-fueled joke game show. And then he freakin' won it – The Internet that is. Pitted against Funny AF Steve Agee and comedy juggernaut (and the show's executive producer) Thomas Lennon, Cubas proved he can riff with the best of them… and on television. You know, with the immense pressure of all the lights, and cameras, and millions of people who could potentially stream it at work the next day. He made host Chris Hardwick laugh so hard, his contact lens nearly shot into the back of his eye.
Cubas has given much to the internet and the internet has given back. Among the lively banter of the show about Lennon's Wikipedia page, someone with enough time on their hands was happy to oblige Cubas's request for his own.
So, congratulations to our hashtag Warrior General, Chris Cubas for breaking through the noise of Twitter and getting the attention of the people over at Team Hardwick. He's made everyone on Team Austin proud of him and proud of their comedy scene.
For more of Chris, listen to his podcast, Cancelled, and of course you can follow him on Twitter.
---
Will Cleveland is an actor, comedian, director, and former producer for UCBComedy.com in New York City where his sketch troupe

SCRAPS

was recognized as one of eleven best sketch teams on the internet by Splitsider.com which is one of the twelve best comedy blogs. He teaches Sketch Writing & Video Production at ColdTowne Theater and is Programming Director of ColdTowne TV.